We connect
great companies
to great people.
Caméléon is passionate about becoming Canada's most loved, trusted, and sought-after talent acquisition and recruitment firm. We work with bold, innovative, passionate decision-makers who value and are obsessed with hiring and retaining the best talent for their culture.
Why your recruitment strategy is failing you
Sure, we're in a tight, competitive labour market. Yes, qualified candidates have a smorgasbord of opportunities to choose from. And no, your business doesn't have to succumb to choosing just anybody to fill a position. Get our free guide to learn how to avoid recruitment pitfalls.
Yes, I want the guide!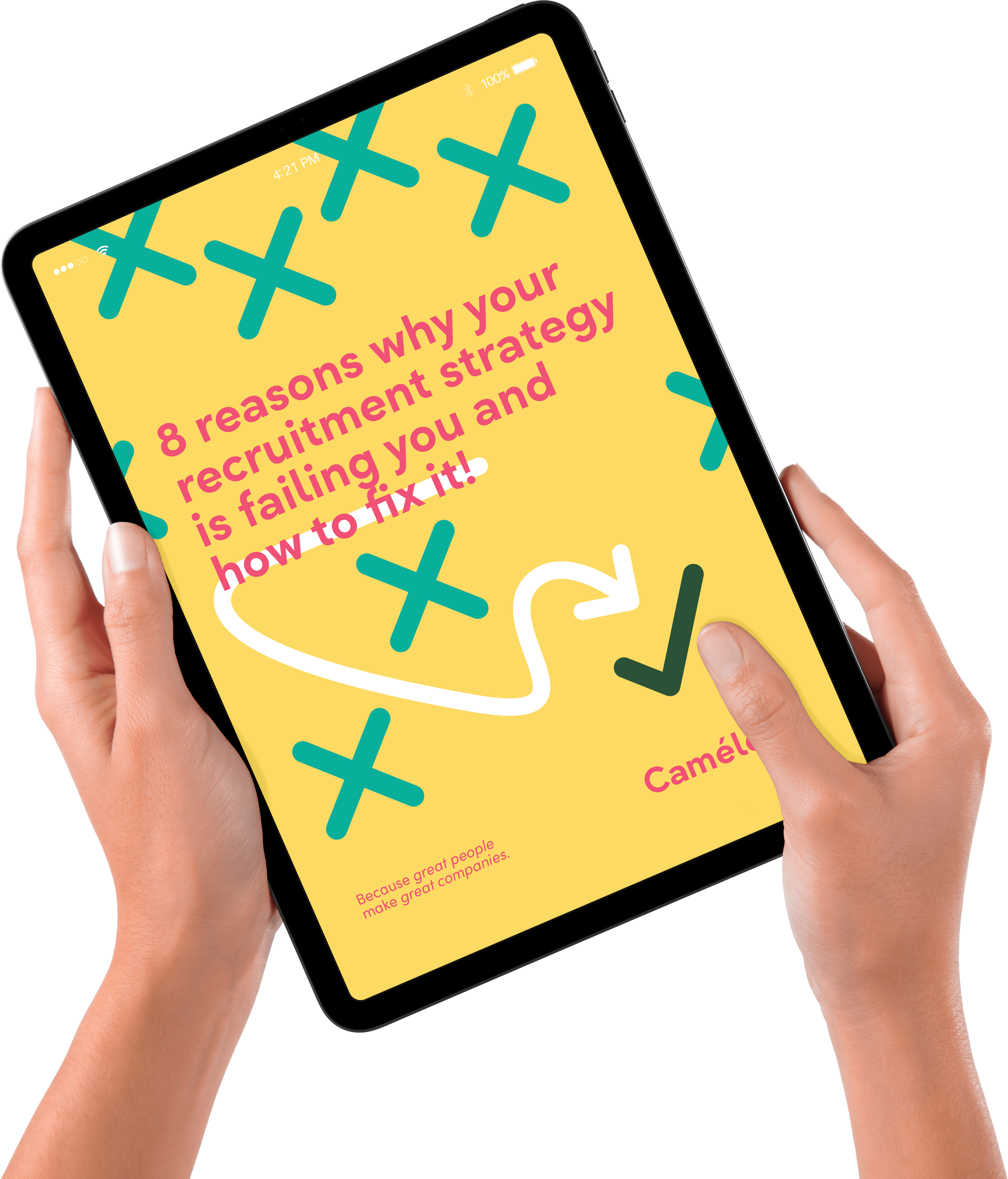 I am an employer
On-demand recruitment, headhunting, consulting, training, onboarding and support.
We help you sleep better at night.
Learn more I am a candidate
Tap into amazing job opportunities that fit who you are and what you want.
No soul-sucking jobs here!
Learn more
Why partner with us?
There's a new frontier in talent acquisition out there. We're definitely not in Kansas anymore.
The modern work world requires modern techniques and a modern mindset when it comes to bringing together trailblazing companies and equally awesome candidates. Caméléon is at the forefront of today's talent acquisition and retention dynamic. And we've got the results to prove it.
So, what is our promise to you? While Caméléon was founded on a premise to ensure complete accountability, come rain or shine, we also obsess over delivering:
Clarity
A lack of clarity inevitably leads to failure. Miscommunication leads to missed opportunities and unfulfilled expectations. We're on a mission to change that because clarity brings fulfillment and prosperity to businesses and the people working for them.
Peace Of Mind
Stunted business growth due to staff shortages. Disgruntled employees who are not in the right positions. Non-stop turnover caused by lowest-of-the-low engagement. Job hopping like it's going out of style, thanks to assumptions and mismatched goals. For companies and job seekers alike, Caméléon eliminates the headaches. We make peace of mind a day-to-day reality.
Velocity
In today's volatile job markets, agility and adaptability are critical to keeping pace with the business landscapes of today—and tomorrow. Without velocity, the road to prosperity can be painful and slow.
What do you need help with today?
Caméléon is paving the way toward a seismic shift in the talent acquisition and recruitment industry. You will not find any cookie-cutter strategies here. You'll never roll your eyes at any legacy methodologies or lacklustre results. And you'll definitely never feel like a number at Caméléon. Whether you're looking for end-to-end or ad-hoc services, we've got you covered.
The Caméléon way
Our unique approach to talent acquisition, recruitment and retention is based on 3 critical success pillars that you won't find anywhere else.
Align the right talent with the right organization for the right growth path.
Guarantee a high level of commitment, accountability and support to elevate your performance to a whole new level.
Offer agile, powerful and seamless talent acquisition, onboarding and retention processes.
Clients who've made the shift and got results
The proof is in the numbers.
5
Average number of weeks